DESERT GOLD METAL DETECTOR

The brand new "desertgold" is the news' of the year
the more modern metal detector of the market
with ITALIAN DESIGN and
EXCELLENT EUROPEAN ELECTRONIC TECHNOLOGY
today's technology in the path of the future
with 20 years experience in the industry we have developed a metal detector:
high power
high quality 'genuine made in europe
high precision
For a long time clients 'were asked to design a metal detector that works well in our land, which is easy to use, lightweight and well balanced, and especially to have a good discrimination of objects, and excellent sensitivity' and power and precision in catch precisely precius targets and objects
Well and 'born Desertgold metal detector, news' of the year

The metal detector and desert gold 'was conceived and designed for finding gold nuggets in the difficult terrain of the African Sudan, Guinea, Ivory Coast,and Australia, and U.S.A where the magnetite and lands with high mineralization disturb and reduce the power of many metal detector .
It fits so ', and it' been tested and developed for our Italian land burned by the sun and dry, with high mineralization, volcanic black sands and ect ..

He distinguished himself as better established 'research and discrimination of unwanted objects and pointing and max sensitivity' of valuable objects.
The metal detector desert gold and 'good to find:
gold nuggets and flakes of gold in gold-bearing land
coins jewelry necklaces gold earrings and silver beaches and shorelines
ancient coins in copper, bronze and placed in ancient and medieval
medals, cartridges, military artifacts, clocks and c .. in old places where there were battles ect ...

The desertgold uses the best coils with the most modern electronic market can detect coins up to 45 cm and 60 cm with special bigger coils. Performance that bring the desert gold metal detector as one of the most powerful commercially available
The desertgold have recargeable, intercangeable battery, with possibilty to work continually and change the battery when discarged, and continue the imporant search without stop
RICERCA VERA

coin to 50 cm

moneta a 50 cm

TRUE SEARCH

ottimo anche per militaria ritrovamento elmetto della prima

excelent also for militaria, big find ww1 helmet

grande test con 12x12 in manuale

great find, with 12x12 also manuale mode

fede tra i chiodi, eccellente discriminazione

gold ring beside nails, excellent discrimination

spiaggia mineralizzata, vedere le tarature

sand beach, see the setting

BILANCIAMENTO IN MODO MANUALE DESERTGOLD

manual mode procedure balancing

video prove coppo e terreno mineralizzato

test with mineralized stone and soil

ricerche zona militaria con desertgold

militaria finds with desertgold

moneta sotto chiave ferro

coin under ferrous key

grande buca in discriminazione

great digger in discrimination

rileva moneta in battigia, molto stabile

detecting on mineralized beach

veloce rilevamento e ottima discriminazione del ferro fra oggetti buoni

fast recovery and excellent discrimination of the iron inside good target

video spiegazioni settaggi per spiaggia
prove oggetti dietro vasone di fiori

real test backside a vose

ALTRI TEST E ISTRUZIONI
OTHERS TESTS AND LEARNING
video spiegazioni settaggi per spiaggia
functions english language

spider coil 9x9" coin 50 cm

spider coil 12x12 coin 56 cm

prove tecniche di disciminazione con bobina elittica

with 21x38 dd coil con to 50 cm

prove tecniche di profondita' con bobina elittica
test coins desertgold con monete
You are welcome your comments, and invite you to test also your metal detector to see comparation
The desertgold metal detector born from innovative design allows excellent results in terms of depth and discrimination, the cleanliness of the signals are amazing! detects coins from 40 to 55 cm. See the video listed below in the field, it penetrates earth's magnetic very well in the ground.

The Desertgold is a VLF metal detector operating at a frequency of 14 kHz, molded into shapes with an attractive design is finished with trim dedicated to a comfortable use and a good load distribution, excellent construction materials guarantee as good as use even in harsh conditions

Alluminium Ergal Control unit:
1° more 'protected radio noise and interference, and against electromagnetic and electric fields of power lines from stable sound without a lot of false signals and noise
2 ° mechanically stronger and 'protected against knocks and abuse, designed especially for use in any situation difficult and burdensome
3 control units excellent configuration to be removable, you can 'release, and be able to use a belt or shoulder strap, to search inside high water, or lighten even more the device, ect. ..

Metal detector very light weighing only 1.5 kg package also batteries included, and perfectly balanced to + - 2 diff. cm with fulcrum at one hundred. Properties' only one that allows you to work effortlessly and for a long time
Telescopic rod is adjustable in length and divided into 3 parts so that 'store the unit in small bags for transport
The thing that most appeals to the seeker at first glance is certainly the elliptical plate with double DD desrtpower, mounted in white bellamostra that increases:
1, penetration of the magnetic field as knifefield in the ground, increasing the output of research and sensitivity 'due to system desertgold power that generates magnetic fields symmetry DD more' regular
2 ° greater stability in soils over limestone mineralized volcanic plowed fields ect ..
3 ° better use in plowed fields and places very steep and wooded, with long and narrow shape of the coil that sticks better in the crevices, holes, ect ... soil

With regard to the frequencies ...... desertgold the metal detector has been designed to operate with an operating frequency to 14kHz, in detail this frequency makes it much more sensitive to subtle objects, while providing a greater sensitivity on metals from less powerful signal as precisely small valuables and ancient coins.
CONTROLS OF OPERATIONS CENTRE UNIT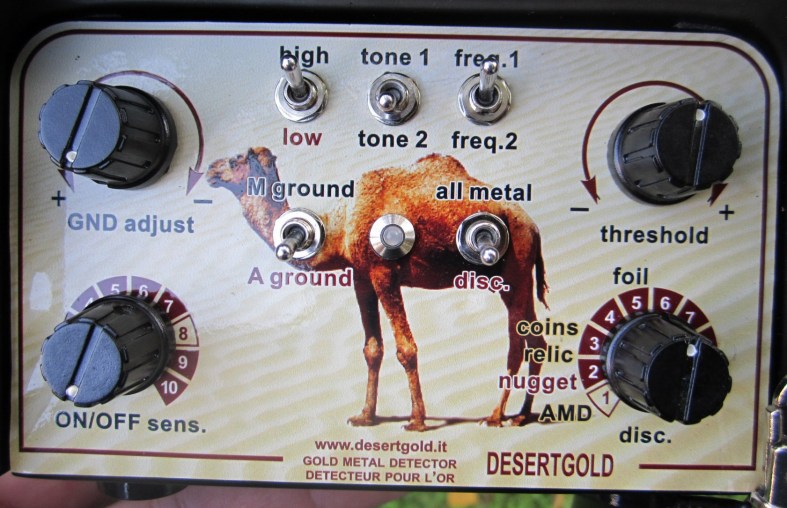 Selector frequency variator frq1 and Frq2, the possibility of varying the frequency minimally choosing between two default settings (and therefore already optimized) allows to immunize the searches by most electromagnetic interference (known as EMI), generated by the passage of current and then present in the vicinity of houses, power lines, telephone and relay masts etc..

Switch modes: Automatic more 'recommended, the metal detector works automatically and is automatically balances according to the soil in which it is located. manual to land more 'difficult, the metal detector is balanced manually by the user so that' find the right value to be able to work well in any soil

Switch the search type: Discrimination, you can work in search mode discriminant and detect objects more 'most valuable' conductors such as gold, bronze, silver, copper, ignoring ferrous ferrous debris small caps type splinters foils c ..

All metal, allows you to work in the search mode to detect all metals, maximum sensitivity ', sounds for all metal objects including iron foils, bottle caps, rusted shrapnel ect .. In this search mode is also used as a centering of the detected object.

Selector power adaptation, the use of high and low 2 functions allows a greater adaptability to all research situations. By setting high you are able to make metal detector in high-performance, low cost of maintaining a high sensitivity in case of persistent problems such as in the shoreline or in areas where there is a strong mineralization. Choosing low power the electronics of the detector cleans the signal, also helping the discriminator, in the presence of disturbances constants can not be eliminated with the balance as or not attributable to it or because the operation would be much too extreme by desensitizing the apparto Research . (You will see the importance of this command especially looking for jewelery at the beach all metal mode, in this context, in the absence of a discriminator signal ready to intervene in your help, the command low will help a lot!)

AUDIO TONE SELECTOR allows you to set the audio tone for research based on the most desired of the two pre-set

Adjustment knob discrimination, will allow very precise (operating mode "disc") to eliminate all unwanted signals, allowing them to stabilize the background hum (threshold) to the most suitable sound.

Knob to adjust the threshold of sound, threshold, adjustable is an indispensable aid for the seeker, expert (only works so all metal) allows us to distinguish a false signal from a signal deep. It 'remarkable speed and responsiveness of this instrument to be able to reset the threshold discriminator just comes on and constant return just the unwanted object has been exceeded. An ear expert could identify objects even deeper by simply increasing sound trshold, but the depth of detection are already such that I would not advise such fine except in places really "interesting" ;).

Balance wheel on the ground and cancellation of ground mineralization, (it is only in manual search mode for advanced users) that can be automated for an 'immediate operation or manually adjustable for pinpoint accuracy.
From tests carried automatic balancing was perfect in all contexts of research, in a shoreline manual white balance allowed for greater peace of ricerca.Il metal detector desertgold concentrated and powerful modern uP in signal handling with perfect programmed function can better manage the research in mineralized ground, shoreline, and perfect filtramento noise that may disturb the device.

The metal detector desertgold will be 'a best buy for you, and you will be very satisfied.

the desert gold only costs € plus VAT

TECHNICAL DATA
Operating Frequency freq ... 1 to 13.89 kHz; Freq.2 - 13.74 kHz
Two audio frequencies set .................. 570 Hz
Weight (with batteries included) ............... 1.5 kg
Length (extended) .................. 51 "(1300 mm)
(Not extended) ............ 41 "(1050 mm)
Reel electric desertpower ... XXXXXX
Optional round searchcoil available
Headphone jack for 8-32 Ohm impedance and unbalanced 1/4 "(6.3 mm)
Standard batteries. Four Ni-MH 1800 mAh AA
Optional ......... Four 1.5 V AA alkaline
life Ni-MH battery about 20 - 30 hours
Warning low battery with LED Light Automatic LED and audio
Balance land AUTOMATIC or MANUAL
Discrimination search mode or All metall
Controller ON / OFF, ON OFF regulator sensitivity. Controller manipulated variable discrimination. Controller variable regulator GND cancellation mineralization. Controller variable threshold of the audio sound of reconnaissance of the objects.
Power switch up / down Switch frequency selection freq.1/Freq.2 modern three-part telescopic handle with ergonomic handle Central Aluminum Alloy protected against shock and radio interference electric field magnetic system + Central chinghia to use hipmount belt or the neck Robust design and perfectly balanced for rough usage and long-lasting